Final Seminar "From fundamental research to application in policy for plasmid-mediated antimicrobial resistance"
"From fundamental research to application in policy for plasmid-mediated antimicrobial resistance"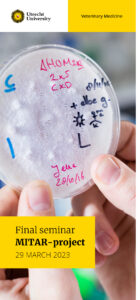 The morning session starts with an overview of the results of the MITAR project, followed by presentations on plasmid-mediated antimicrobial resistance around the topics evolution and ecology of pAMR. The afternoon session focuses on bringing fundamental knowledge towards policy advice. There will be many opportunities to interact with speakers and participants.
Speakers:
Jesse Alderliesten
(MITAR project, UU, Utrecht, The Netherlands),
Sarah Duxbury
(MITAR project, WUR, Wageningen, The Netherlands),
Alvaro San Millan (on-line)
(Centro Nacional de Biotecnología, Madrid, Spain),
Meike Wortel
(UvA, AMsterdam, The Netherlands),
Clazien de Vos
(WBVR, Lelystad, The Netherlands),
Alejandro Dorado Garcia (on-line)
(FAO, Rome, Italy) and
Jaap Wagenaar
(UU, WBVR).